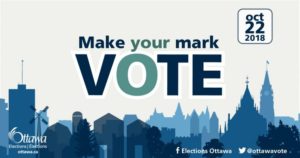 NEW!!  Watch the Community Associations Candidate Debate from October 1st HERE (thank you to Rogers TV for recording and broadcasting)
SURVEY RESPONSES! The Kanata Lakes Community Association asked all candidates to answer a series of questions which are specific to our ward and local concern.
KL Survey Answers Muirhead  KL Survey Answers – Gourlay
NEW!!!  You can watch the Kanata North Rogers TV Debate HERE
You can read the CBC Ward Summar HERE
GENERAL ELECTION INFORMATION: 2018 is a municipal election year across Ontario, including Ottawa! Kanata Lakes is part of "Ward 4", otherwise known as Kanata North. You can read about the Ward here. The election will take place on October 22, 2018. You can read about the election HERE.
Earlier this year, our elected municipal councillor, Marianne Wilkinson, announced that she would not run in the upcoming election. We thank Marianne for her over 40 years of dedication to the Kanata area and we look forward to celebrating her contributions in the future!
Registered Candidates (Alphabetical):
Philip Bloedow (no website identified)